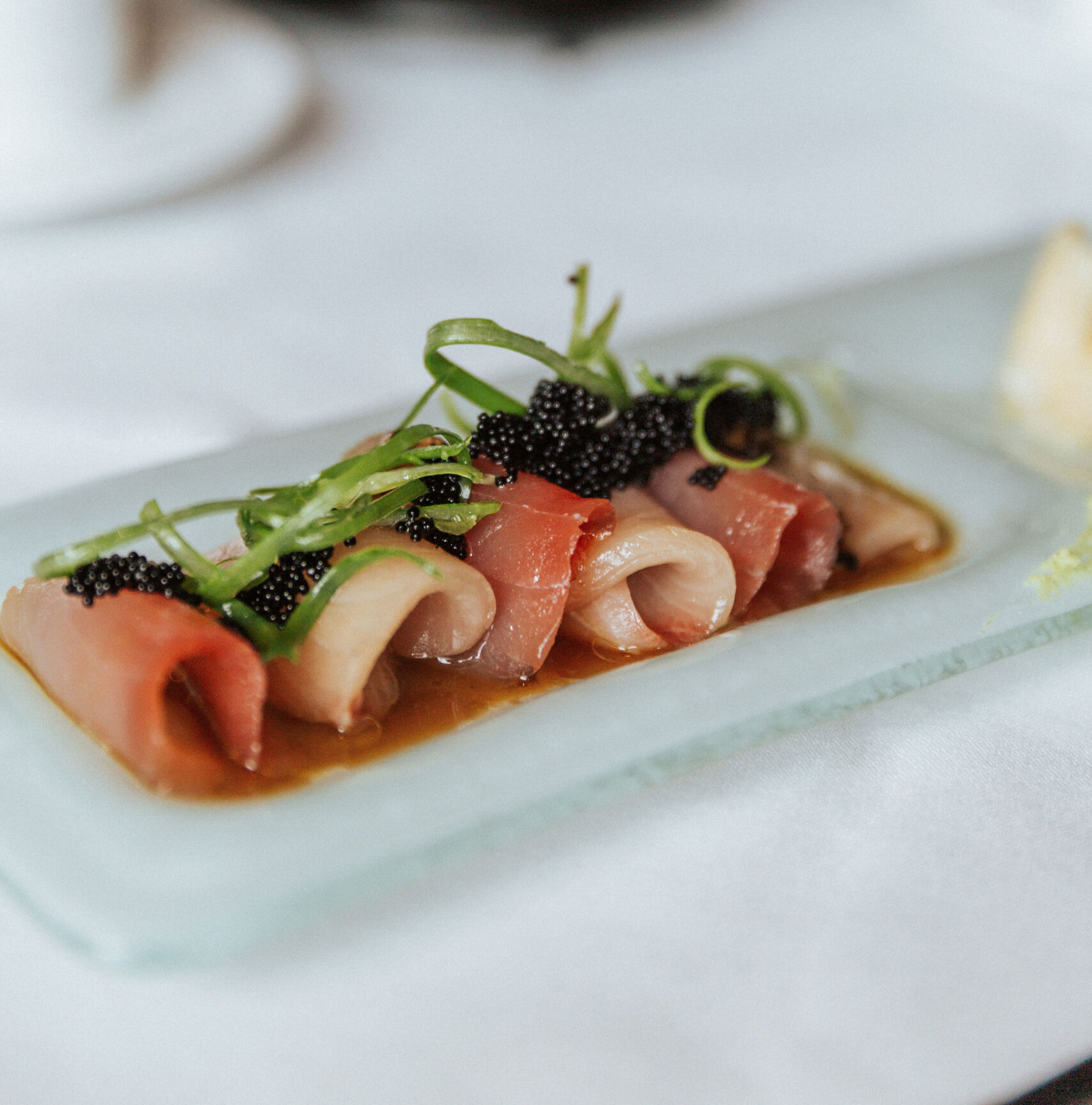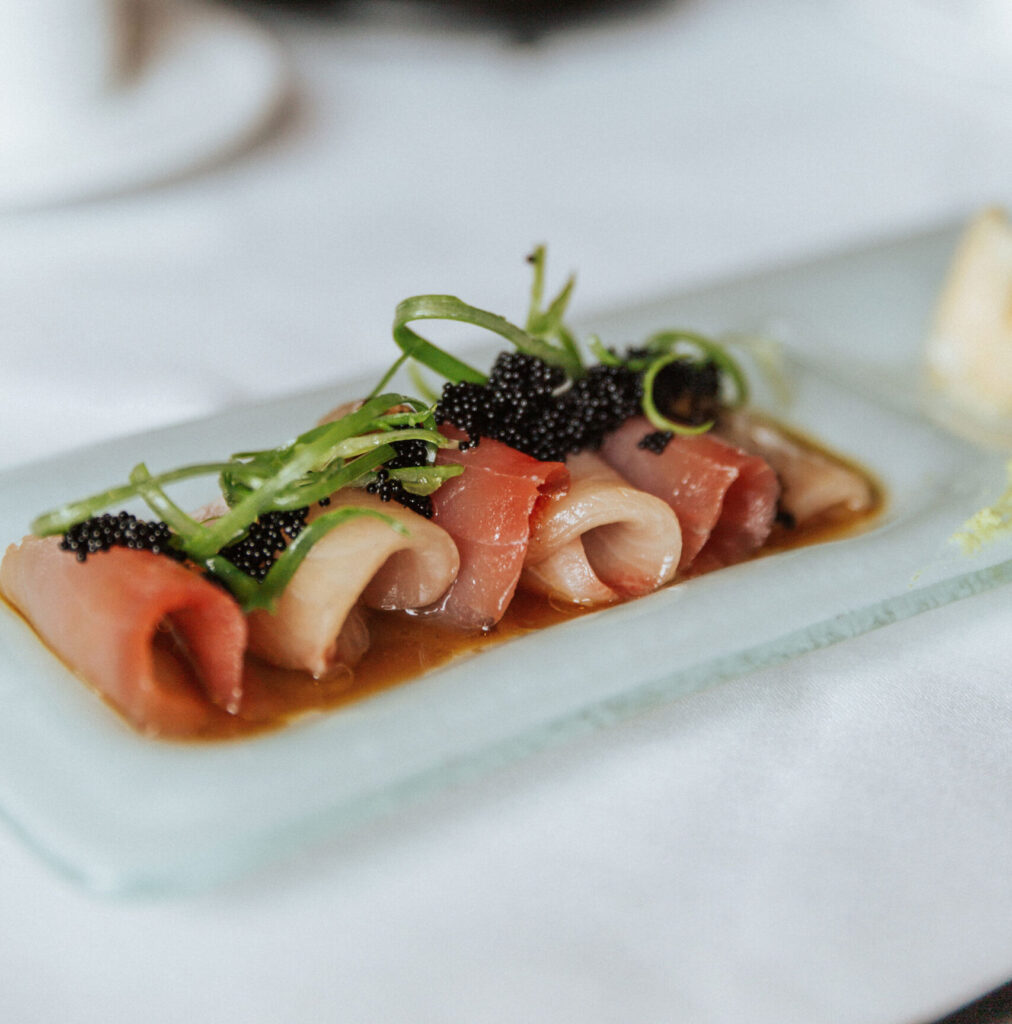 Hamachi, Albacore, Truffle Ponzu, Scallion, Black Tobiko Caviar
AWARD-WINNING TOMBO TUNA TACOS*
Hass Avocado, Macadamia Nut, White Truffle, Black Tobiko Caviar, Yuzu Kosho
Chives, Shiitake Mushrooms, Jicama, Sesame Chili Oil
OC Homegrown Mushroom, Chili Tamarin Sauce
Sesame Seeds, Kimchi, White Cheddar Cheese
CHEF RON'S FAMOUS GARLIC CHICKEN WINGS
Thai Chili, Ginger, Thai Basil
To Make a Complete Meal, Enjoy with our Truffle Hainan Rice
JIDORI CHICKEN 12.  |   ANGUS BEEF® 14   |   PRAWNS 16 *To Make a Complete Meal, Enjoy with our Truffle Hainan Rice
Red Jalapeño, Scallion, Thai Basil Aioli
GINGER PRAWNS RICE NOODLES
Pan Fried Rice Noodles, Sauté Asparagus, Shiitake Mushrooms, AnQi's Signature Sauce
Light Curry, Lentil, Eggplant, Chickpea
Marinated Angus® Steak, Black Bean Sauce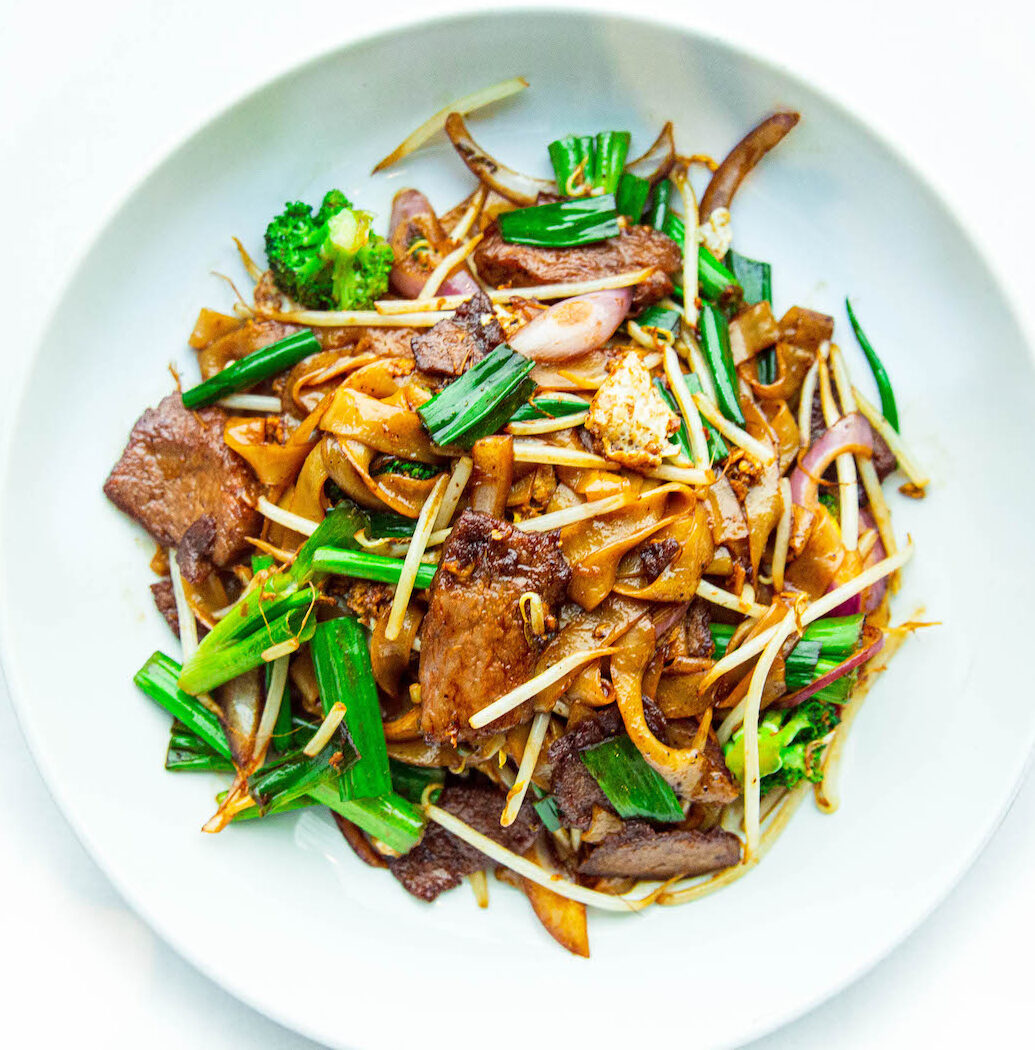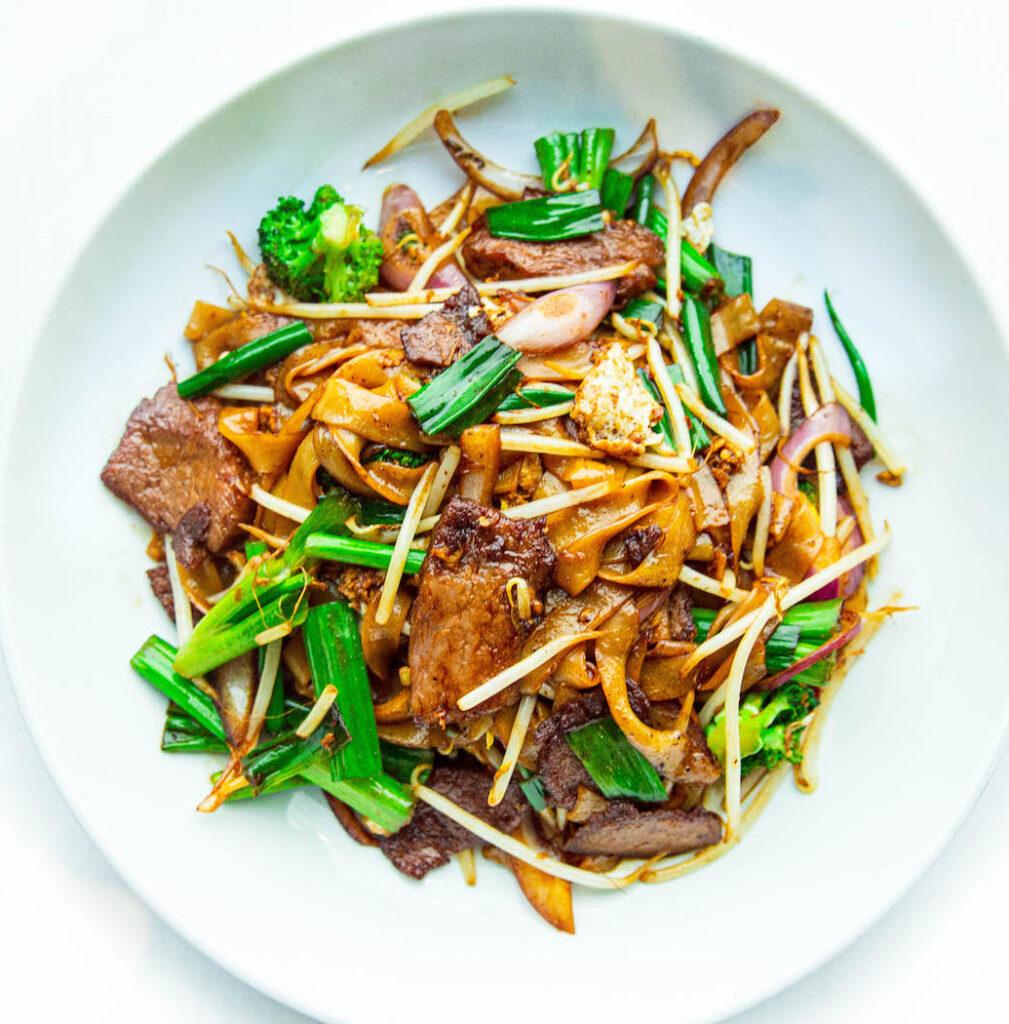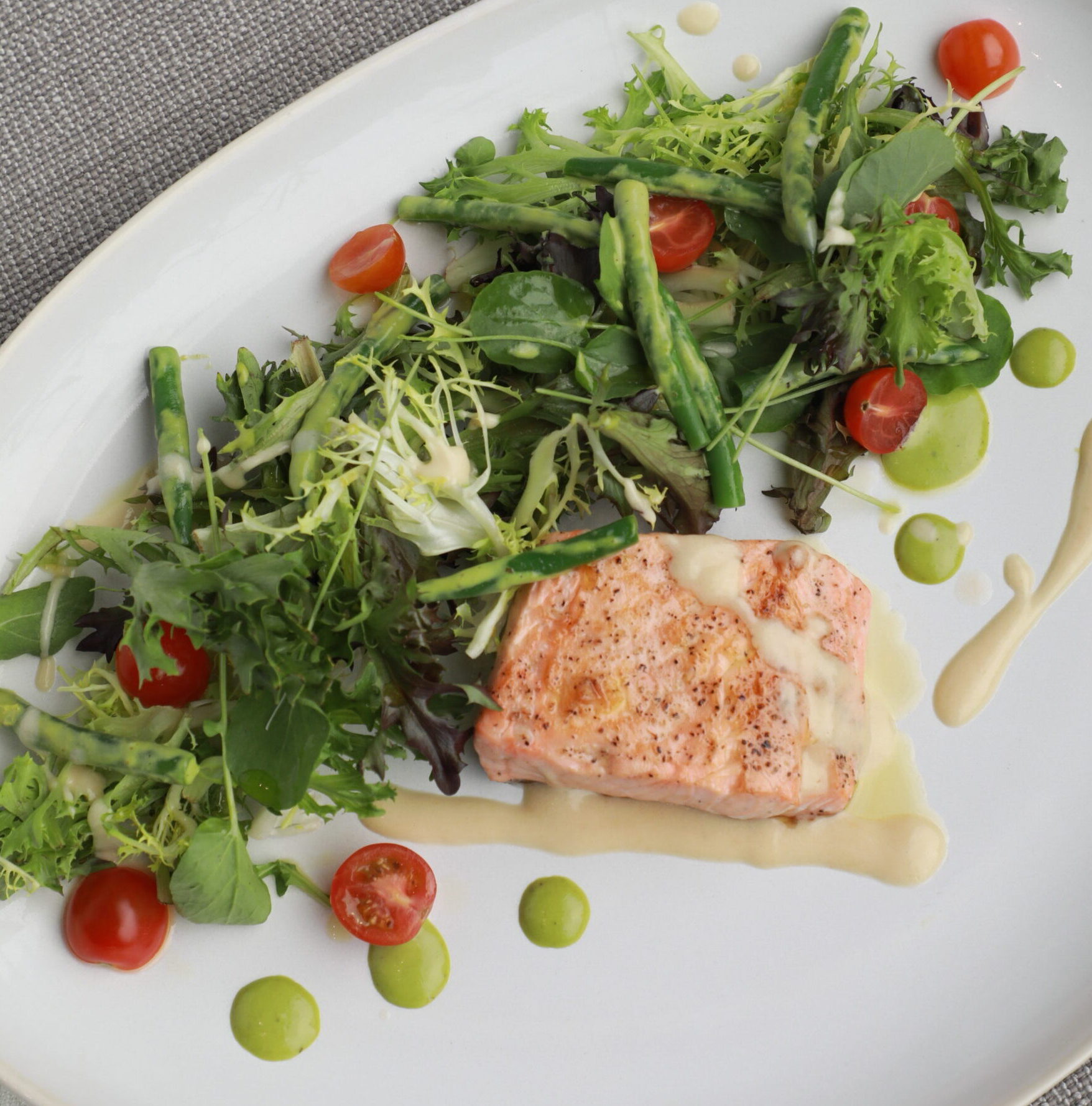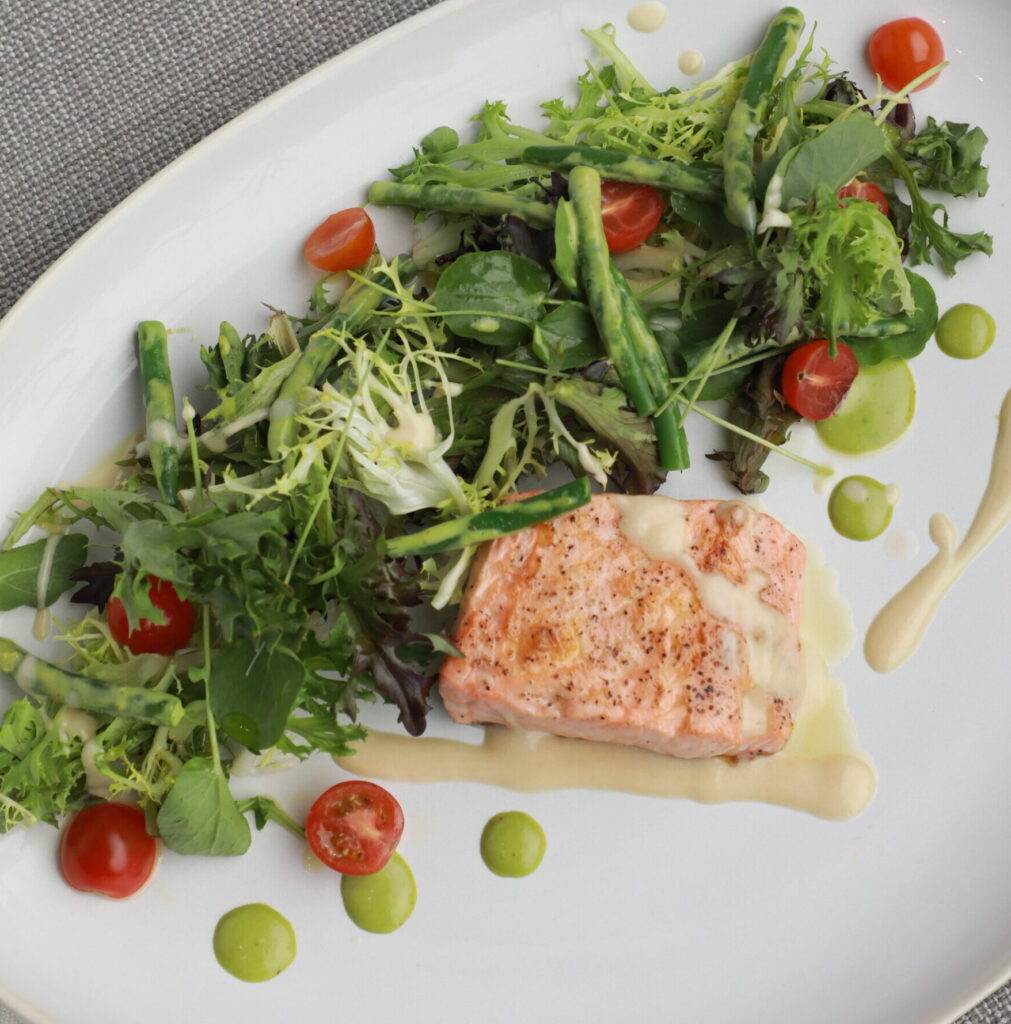 GRILLED OCTOPUS & PAPAYA SALAD
Cherry Tomato, Peanut, Long Bean
Choice of: Mild | Medium | Hot | Nuclear
Grilled Prawns or Grilled Salmon
Warm Assorted Greens, Ponzu, Beurre Blanc, Enoki Mushroom
Kohlrabi, Black Truffle, Crispy Kennebec Potato,
Garlic Blossom
AN'S FAMOUS ROASTED CRAB™
Dungeness Crab Out of Shell
We did all the work for you!
WITH AN'S FAMOUS GARLIC NOODLES™
WHOLE PAN ROASTED MAINE LOBSTER
AN'S Famous Garlic Noodles™
AN'S FAMOUS GARLIC NOODLES
Roasted Garlic, AN's Secret Sauce™
ADD JIDORI CHICKEN +12 | ANGUS BEEF® +14 | PRAWNS +16
Steamed Jasmine Rice,
Wok Steeped Garlic, Hidden Spices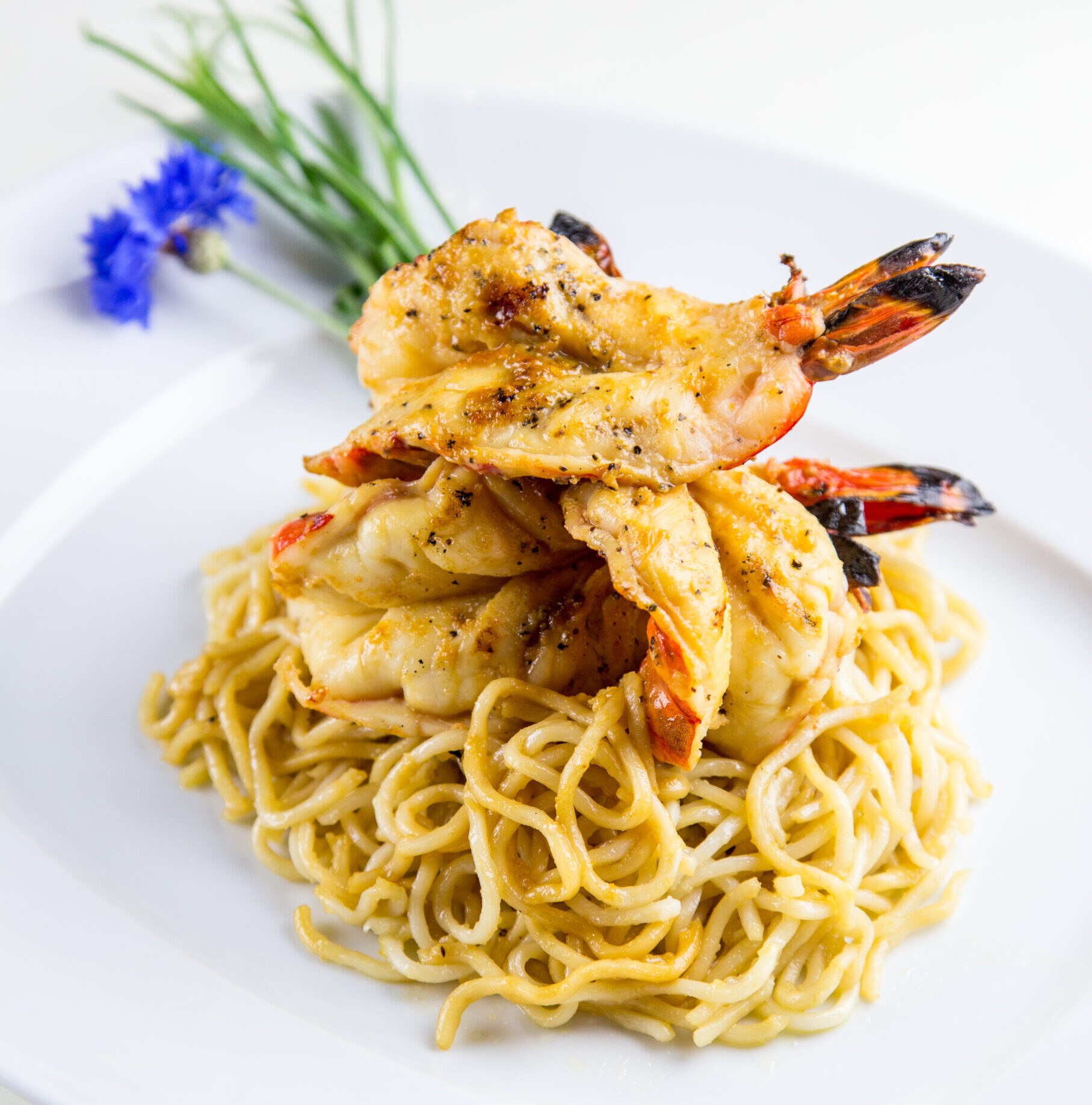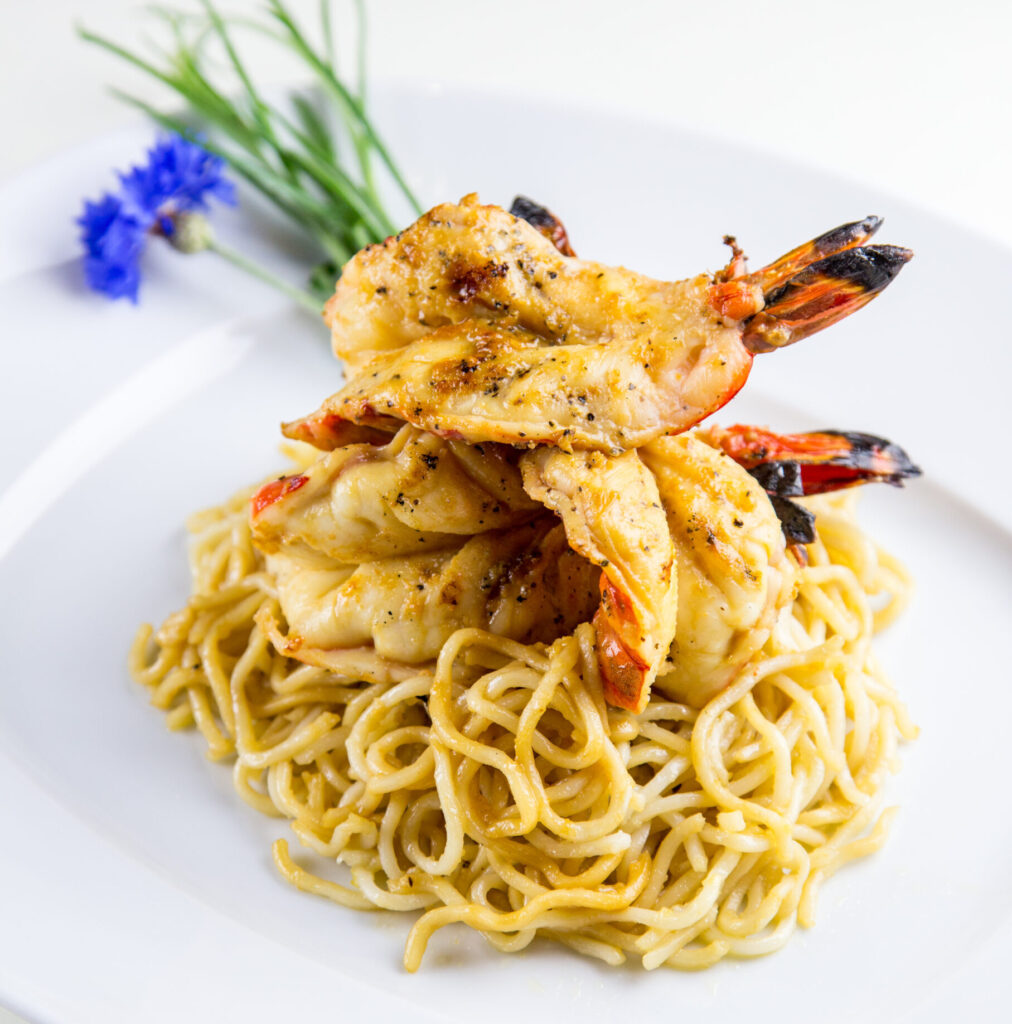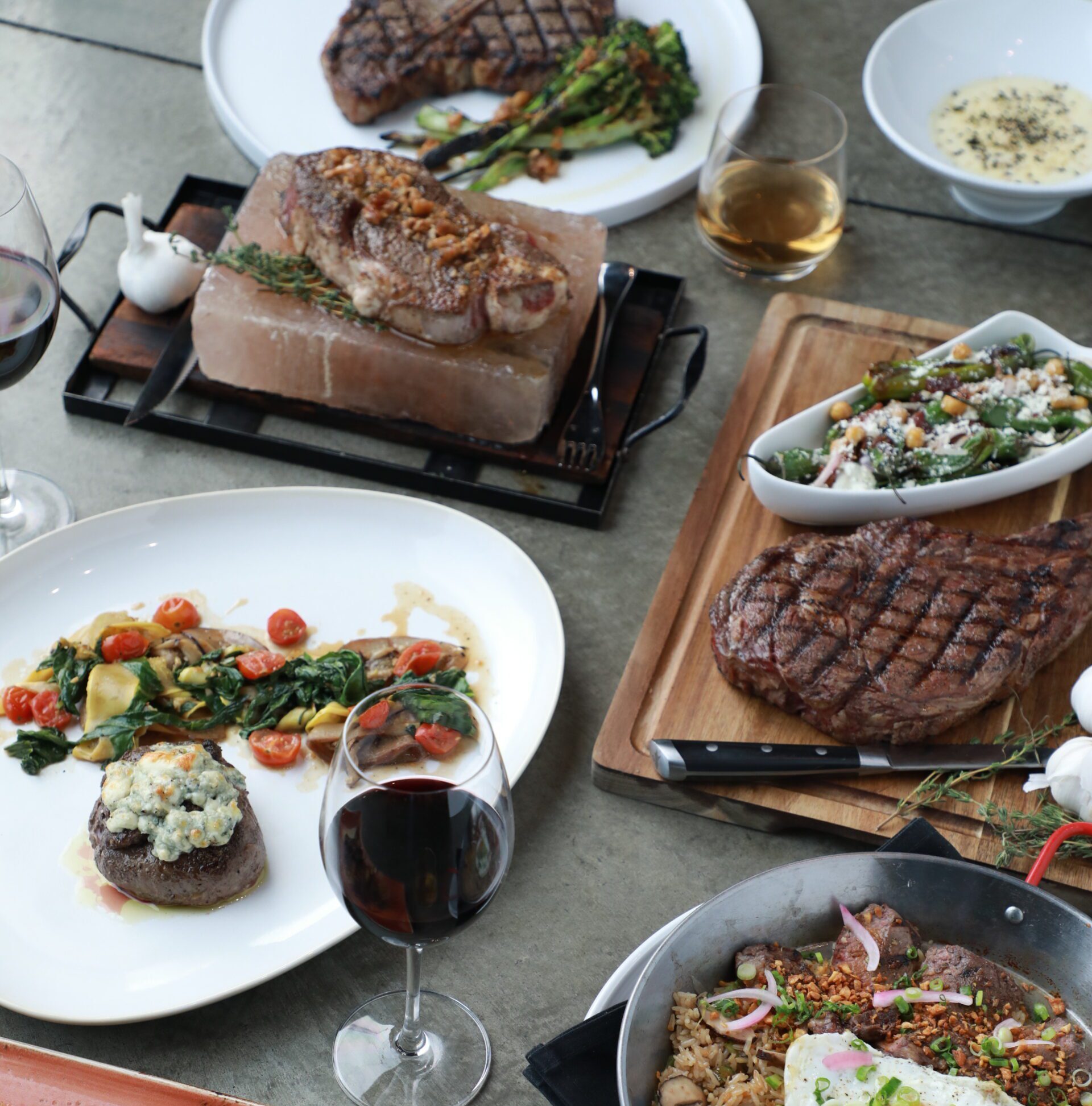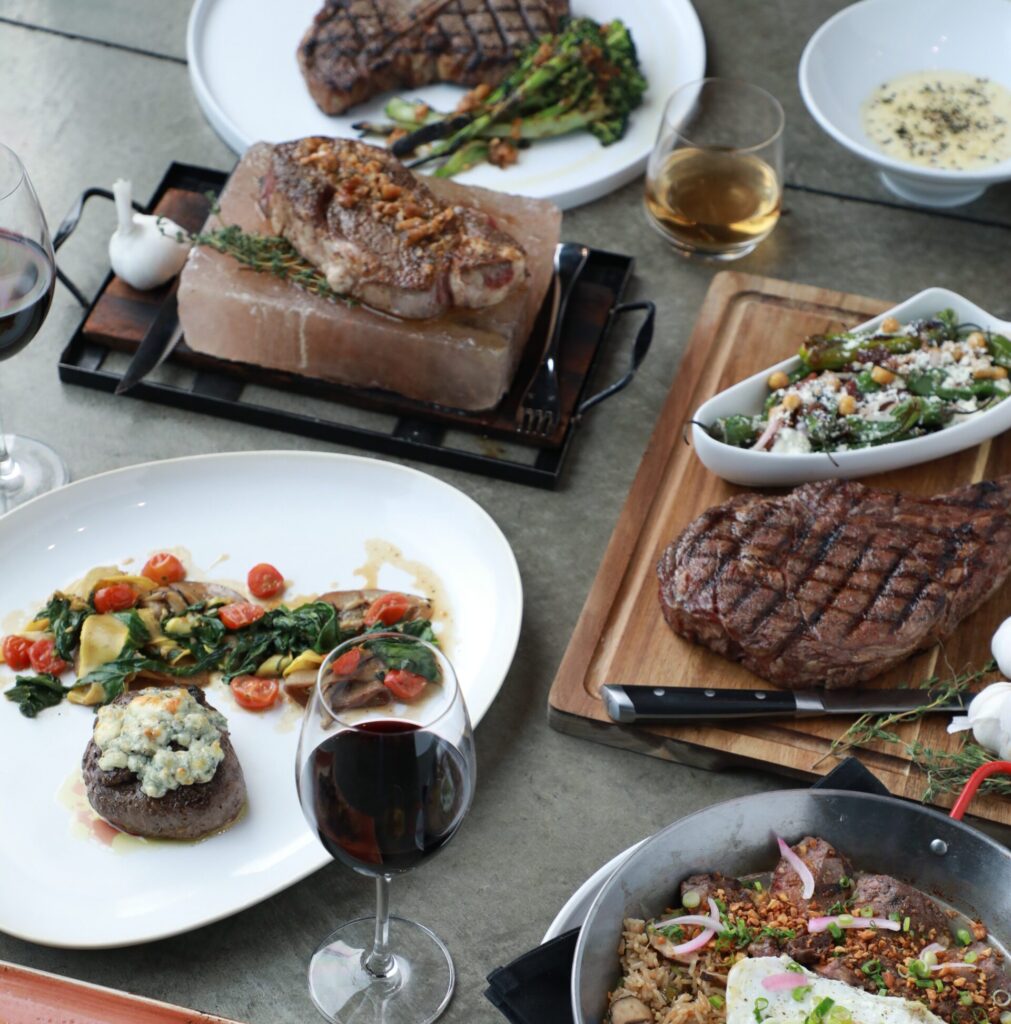 ANQI ULTIMATE WAGYU TASTING
EXPERIENCE - 2oz EACH
Japanese Kagawa A5 Olive Fed Ribeye,
Japanese Miyazaki A5 NY, and Australian Sher Wagyu
A5 MIYAZAKI JAPANESE WAGYU - 4oz
Truffle Ponzu Sauce, Pickled Wasabi Aioli
ANQI SIGNATURE SIZZLING SALT BLOCK PRIME RIBEYE - 16oz
White Cheddar Potato Purée, Pork Belly XO Sauce
KETO GARLIC PONZU FILET - 8oz
Filet Mignon, Asian Ratatouille,
Gorgonzola Brûlée
Black Garlic Butter, Brussels Sprouts, Red Grapes
RIBEYE STEAK FRIED RICE - 8oz
Crispy Garlic Chips, Black Garlic Sauce,
Frizzled Sunny-Side Egg
TOMAHAWK RIBEYE STEAK ON SIZZLING
SALT BLOCK - 32oz
Shishito Peppers, Applewood Bacon,
Crème Fraîche
Poached Potato, Roasted Pepper,
Shiitake Mushroom, Golden Curry Sauce
GARLIC BUTTER HANGER STEAK - 8oz
Grilled King Oyster Mushroom
SPANISH PORK IBERICO SECRETO - 9oz
Caramelized Pear, Fennel & Watercress Salad,
Meyer Lemon Vinaigrette
CRUSTACEAN SHAKEN BEEF LUNCHEON
Chef AN's Secret Sauce, Sautéed Green Bean,
Cherry Tomatoes – With Garlic Rice
CRISPY ORANGE PEEL CHICKEN
Chinese Celery, Sesame, Cilantro Yogurt
Thai Chili, Bell Pepper, Peanuts – With Jasmine Rice
Aromatic Red Cargo Rice, Thai Herbs,
Dijon-Misoyaki Glaze & Baby Bok Choy
LEMON TRUFFLE SNAPPER EN PAPILLOTE
Cooked en Papillote, Shiitake Mushroom,
Leeks, Kaffir Lime, Mint Scallion Sauce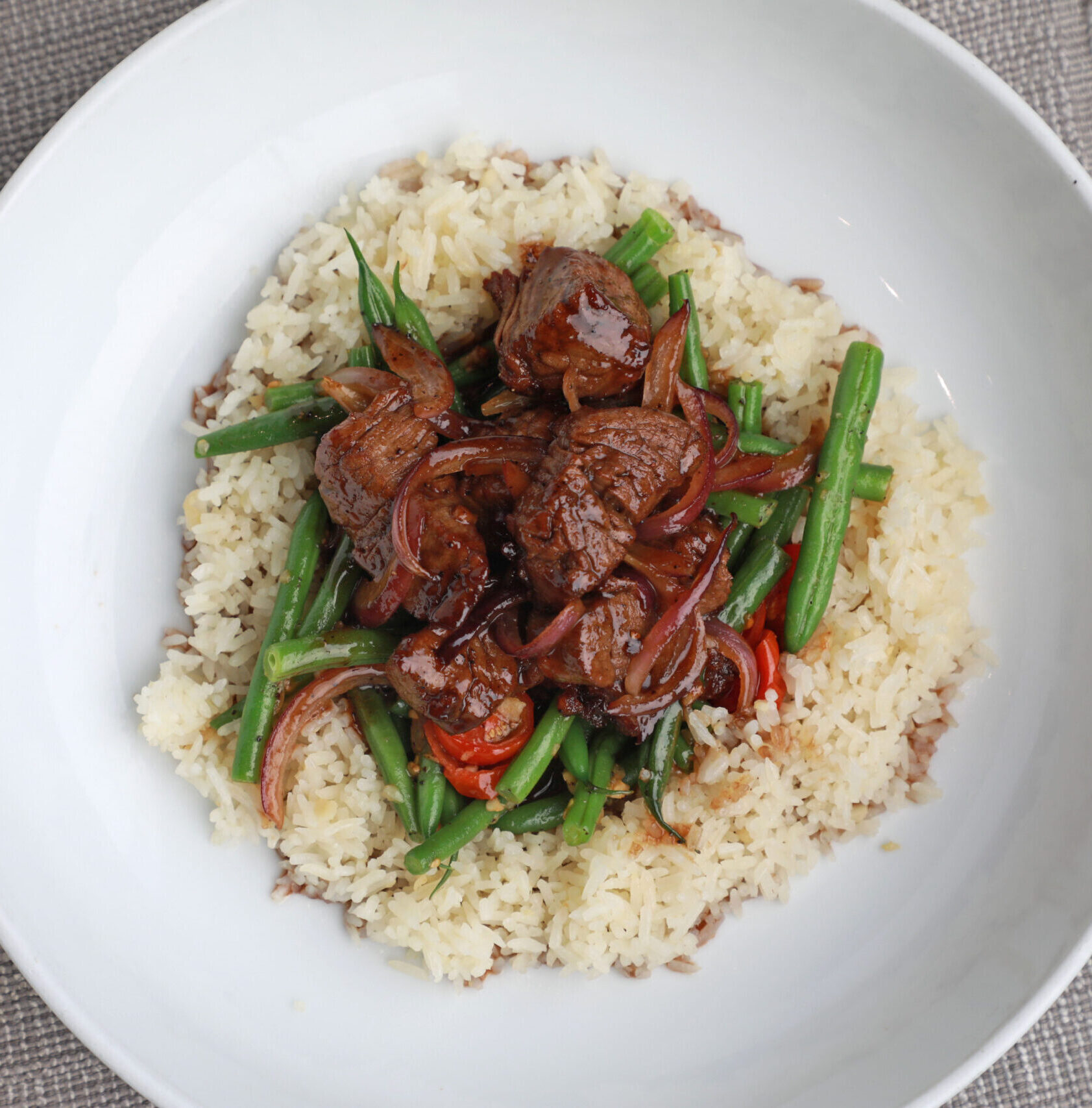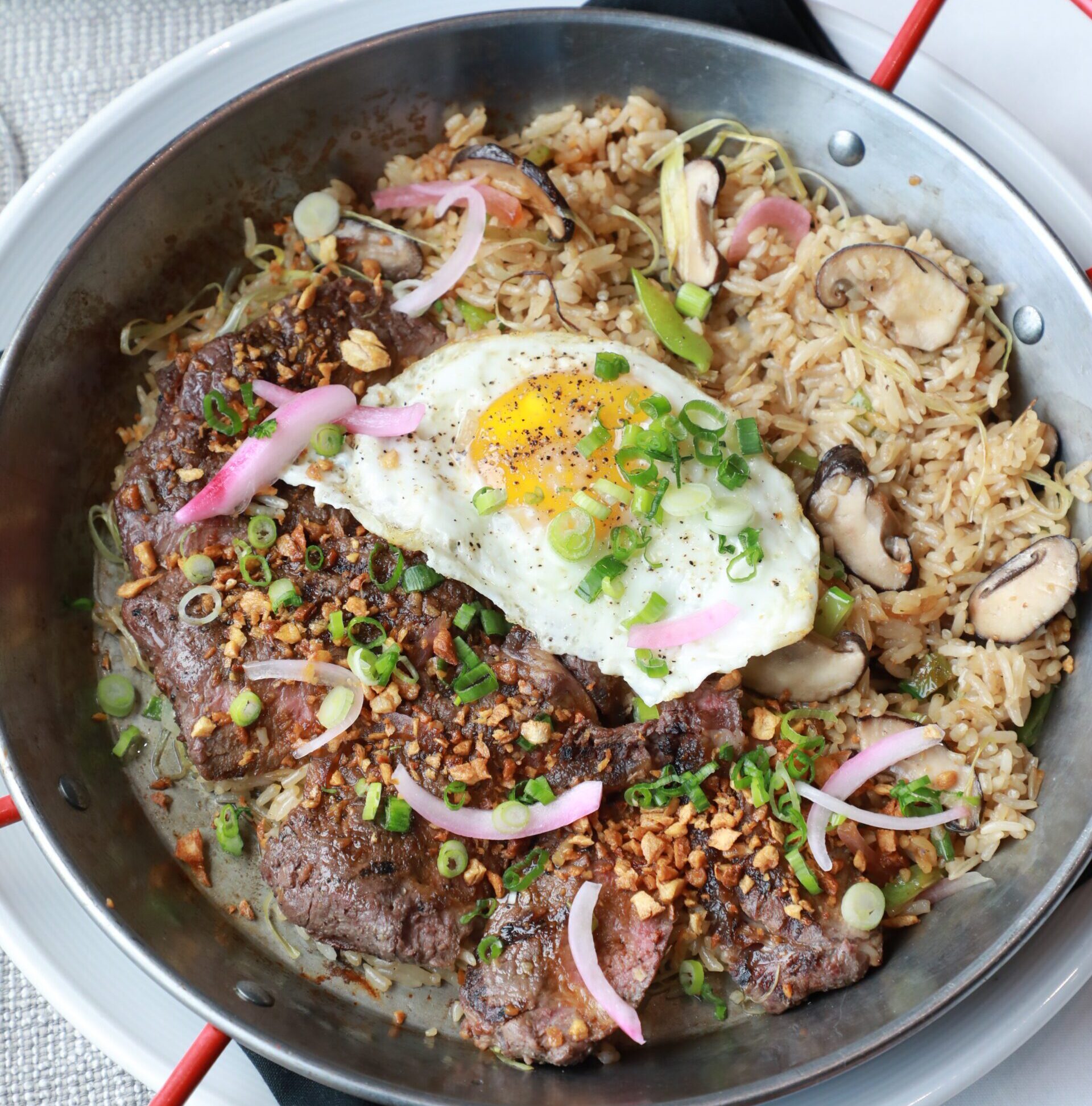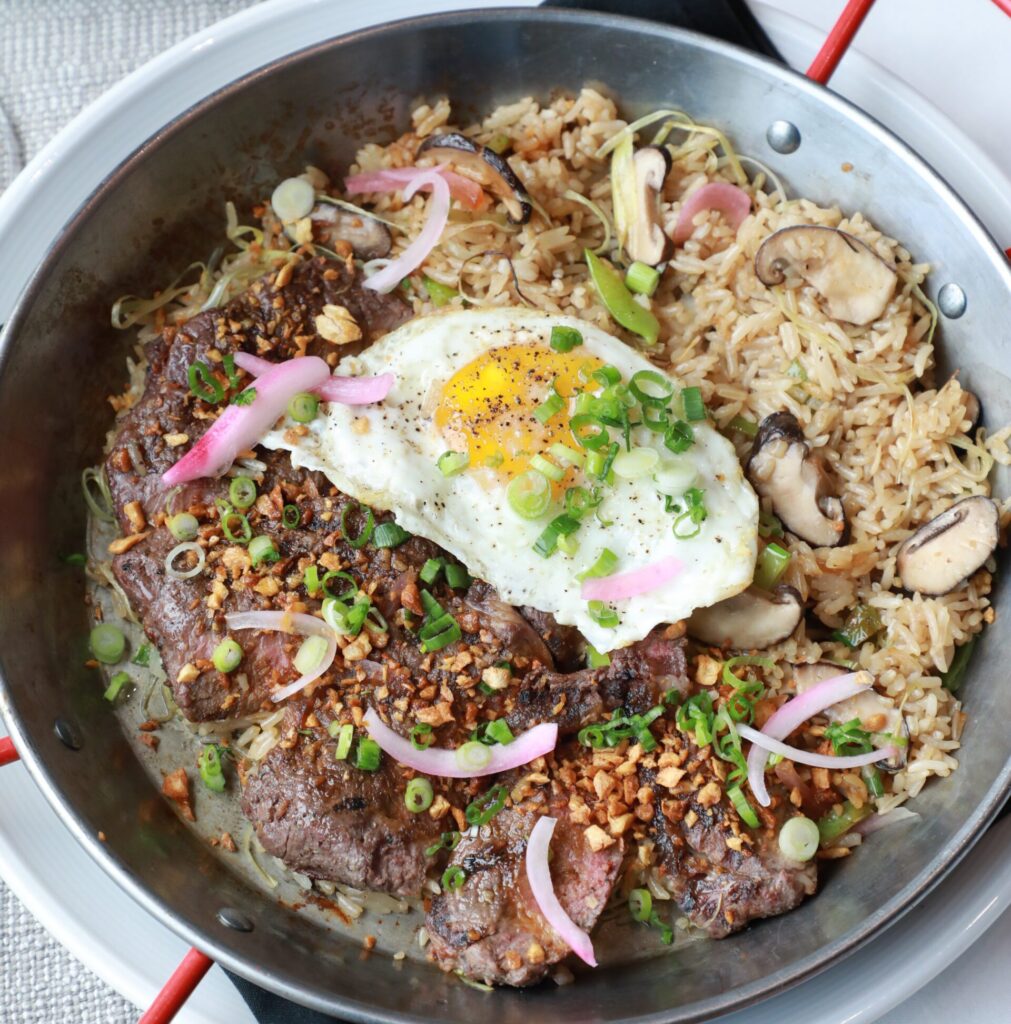 ROASTED CAULIFLOWER & BRUSSELS SPROUTS
WHITE CHEDDAR POTATO PURÉE
Shaved Spanish Manchego Cheese
Small $8 | Large $14
Shrimp, Applewood Smoked Bacon,
English Peas, Hen Egg
Green Beans, Egg Whites, Bean Sprouts,
Shiitake Mushrooms
Truffles, Chicken Broth, Ginger Scallions
With Poached Egg + $2
Thai Basil & Thai Red Chili Gastrique
GENERAL TSO'S TRIO ORANGE
King Mushrooms, Yukon Gold Potatoes, Cauliflowers, Orange Sauce
Oyster Sauce, Garlic, Sesame Seeds
At AnQi, our culinary team is committed to purchasing & supporting local harvests, using the freshest of
seasonal, organic and sustainable ingredients. We use the most humanely raised beef possible in partnership
with some of the best ranchers in the Midwest. We source "best choices" & "good alternatives" when possible.Our soy sauce is Tamari based, which is gluten free & non wheat added. Our frying oil is gluten free.